SERVICES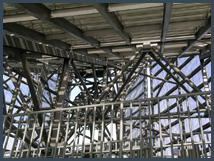 CCC can provide either hold point periodic inspections during the project or we offer full time inspections. In either capacity, CCC has the knowledge and proven experience to work as a "team member" to see that the work is performed within the guidelines of the specifications.
Hold Point inspections are performed at different milestones of the coating process. Such processes would be at the completion of surface preparation operations. At the completion of different coats in a multiple coat application, then again at the completion of coating activities. In this capacity since we are only onsite on a part time basis, we are only working in a quality assurance capacity.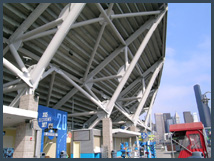 Full time inspections are also offered by CCC. In this arraignment CCC would be onsite in a full time manner. Typically in this capacity, CCC has the authority to accept and reject all phases of the coating activities and therefore would be working in a quality control capacity. In either situation, CCC has provided many years of accurate and fair inspection services in the coatings industry.
Test Instruments:
CCC has the instruments and knowledge to perform many different facets of non-destructive as well as destructive testing. CCC uses the latest technology instruments for our testing. We have a wide range of equipment at our disposal including but not limited to High and Low Voltage Holiday Detectors, numerous ferrous and non-ferrous Dry Film Thickness Gages, and portable Adhesion Testing equipment.
Failure Analysis:
CCC has been utilized by many companies involved in coating failure disputes. Our company can and will provide professional and expert analysis either on the jobsite or in our office to provide factual documentation and concise answers in these common disputes.
Specification Writing/Consulting:
CCC often partners with owners of commercial and industrial facilities and structures to assist with Paint Specification writing. CCC has proven our ability to meet the needs of many owners in providing knowledgeable and thorough assessments and condition surveys and then generating a comprehensive set of guidelines for these owners outlining processes and materials that will protect their valuable assets for many years to come.